The Many Benefits of Electric Bikes For Active Seniors
Electric Bikes benefit so many people in so many ways, but as the world's population is getting older, electric bikes will benefit active seniors the most.
The recent advances in electric bike technology have created more opportunities for older riders to consider cycling as a mode of transport and exercise. Electric bikes allow people to ride much later in life than they would have previously thought possible.
An electric bike rides just like a traditional bike, as you need to use your muscle power to pedal, but the electric motor seamlessly kicks in, giving you a little boost with every pedal stroke. With the touch of a button, you can select how much help you want from the motor.
This makes pedaling much easier and less strenuous, giving older people a superb option for staying active.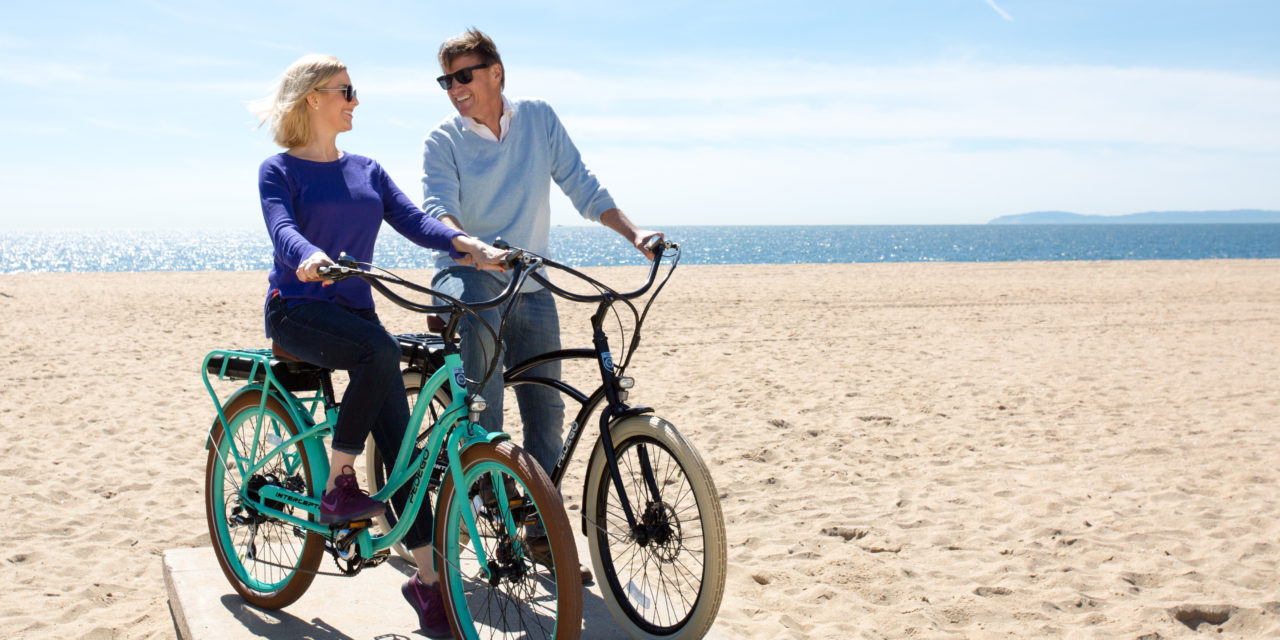 Electric Bikes For Better Health
 Having an active lifestyle in your later years rolls back the aging process and is essential for improving health while keeping illnesses at bay. Riding a bike is one of the best forms of low-impact exercise, as it is easy on your joints. It is also an excellent aerobic exercise that improves cardiovascular health while pumping more blood to the brain.
This is where electric bikes come in as the perfect solution for older people. Riding an electric bike is not as intense as riding a traditional bike, but it is still good exercise. Older people who ride electric bikes will stave off debilitating diseases such as Alzheimer's and Parkinson's better than people that don't. Cycling also improves the symptoms of these diseases for sufferers.
Older people who ride electric bikes will do more exercise than they would on a traditional bicycle. This is because they are likely to ride them more often. In addition to this, they will often ride for longer because their rides are more enjoyable and less painful.
Electric bikes are a surprising path to good health for previously inactive people or those with existing health problems. Older people with electric bikes will stay off the couch and use them as a ticket to fresh air and better health.
Riding a bike also contributes to improving your mood and fighting depression. Part of cycling's mood-boosting properties is the social aspect. Electric bikes allow people to see their friends and family more easily. It is also common for electric bike riders to meet up and go out on social rides together.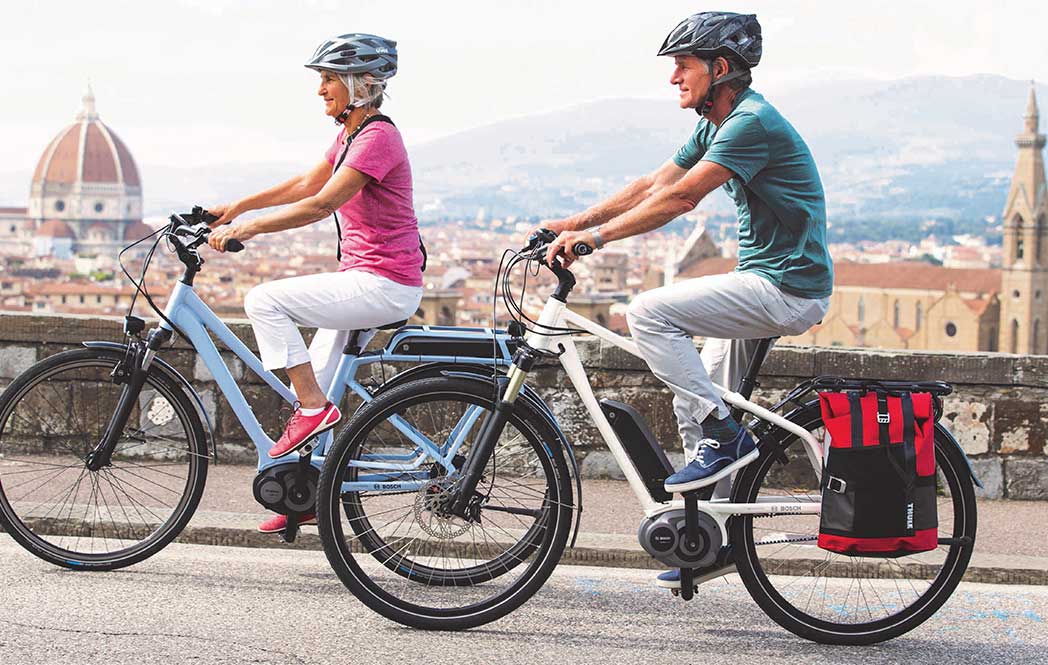 Electric Bikes Allow You To Keep Up
 Electric bikes allow friends and family to spend quality time together on two wheels and are often used by older riders to keep up with younger family members.
 Imagine an older person that used to ride mountain bikes with their kids, but now struggles to keep up with them when pedaling uphill or over long distances. An electric mountain bike bridges the gap in fitness levels and allows families to ride together similarly to how they used to.
 But this benefit is not just reserved for mountain bikers. Families that like to ride together in the city can also take advantage of electrically assisted pedaling. While the younger family members ride their traditional bikes, the older ones can keep the same pace with ease.
 The riding you want to do will determine the type of bike you buy. For example, if your family and friends do lots of road biking, you will be able to buy an electrically assisted road bike. Alternatively, you may want something simple that gets you around town, is comfortable, and can carry shopping or even a passenger. If this is the case, a decent electric city bike will do the trick.
 Click here to view our Commuter collection
It is common for older couples to buy electric bikes together. This is because differences in fitness become less of a problem. Older couples can go out on rides together without the frustration of the least fit one being left behind.
Electric Bikes Create Accessibility
Electric bikes make cycling more accessible to older people. They can experience the benefits of cycling that they wouldn't usually be able to on a traditional bicycle.
Electric bikes make it easier for older people to get around; therefore, there is a good chance that cities will improve their infrastructure to be more electric bike-friendly in the near future. This, in turn, will improve everyone's life by reducing pollution and giving us all an alternative and environmentally friendly method of transport.
When it comes to using an electric bike purely for transport, it allows you to commute without getting hot and sweaty. They also make it a lot easier to haul a load of groceries from point A to point B without having to work hard to get over that super steep hill in your neighborhood.
Riding an electric bike can replace your car, or at least reduce how much you use it. Electric bikes are an easy, convenient, and low-cost way of getting around. You can avoid traffic and parking while doing your bit for the environment. The fact that you can zip through short-cuts, use cycle paths, and dodge traffic jams means running errands on an electric bike is often easier than taking the car.
If you do need to take your car, you don't have to leave your electric bike at home. Some great foldable electric bikes on the market will easily fit in the trunk of your car, meaning you can park away from the city center and run your errands with your electric bike without having to battle with inner-city traffic.
For people that like their rides to be a little rougher, electric mountain bikes give you access to terrain that you wouldn't usually have the time or ability to get to. The motor's power will get you up steeper climbs or allow you to ride longer cross country routes. The advantage of this for older riders is that they can still access their favorite trails and ride longer.
Electric Bikes For Rehabilitation
If you are recovering from an injury, operation, or illness, an electric bike could be the perfect solution for your rehabilitation. The fact that you can change the level of assistance means you can put in as much effort as you need to as part of your rehabilitation. This is the characteristic of an electric bike that allows older people to stay active and fit, without the fear of overdoing it.
 Electric bikes have a powerful lithium-ion battery, and the motor on some bikes allows you to reach speeds of 28mph with battery power alone. This means when you are riding, you will be able to get home quickly without pedaling if it becomes too difficult or painful.
Electric Bikes Are Fun
 Just because you are getting older, it doesn't mean that you should stop having fun. I mentioned the social aspect earlier of being able to see your friends more easily with an electric bike and how they improve your mood. But, even the most basic electric bike is fun to ride.
 The first thing you notice when you start peddling an electric bike is how the motor magnifies your pedaling effort. It does it seamlessly, and depending on what level of assistance you choose, you will be impressed by its power delivery. Some of these electric bikes will whisk you up to 28mph. Some accelerate quicker than others, but they are all genuinely entertaining things to ride.
 You can also ride much further with an electric bike than with a traditional one. The motor assistance means you can explore different areas or take a new gravel path without worrying about your fitness limitations. The electric motor assistance will allow you to take on a 20-mile ride without thinking about it.
 Part of an electric bike's fun is that you will get to experience things you would typically miss when driving a car. You can easily stop when you like to check out the views, chat with people, or take a detour to see something new or exciting.
Features Of The Best Electric Bikes For Seniors
 Rather than recommending a specific electric bike for active seniors, we will go through some of the features you need to look for. This will help you decide which bike to buy.
 The Frame
 There are lots of different types of electric bikes to choose from that will suit your needs. For example, if you are concerned about your strength or ability to mount a bike, you could look into buying a bike with a swooping or step-through frame. These allow you to get on the bike without having to swing a leg high and wide over a bike frame.
Click to see our Step Thru Collection
Comfort can be a major consideration for older electric bike riders. Manufacturers recognize this, and fit them with certain features. Look for bikes with adjustable handlebars and seat posts. These will allow you to get into the perfect riding position. Some bikes have suspension forks to absorb the shock from bumps in the road, and some even have suspension seat posts to add to your comfort.
 The Motor
 The motor on your new electric bike will depend on what you want to use it for. You don't necessarily need the most powerful motor, which can be over 1000W. If you are buying an electric bike to ride in the U.S.A, you will need to check the local laws to see what is allowed in your state.
 A 250-watt motor will allow you to go about 15mph, while a 500W motor, with the throttle, fully down will get you to roughly about 20mph. But, if you are pedaling and using the motor at the same time, you'll be able to hit about 28mph with a 500W motor and 20 to 25mph with a 250W motor.
 This means that a 250W motor is just fine for most people. However, if you ride in hilly areas, you should go for an electric bike with a more powerful 500W motor.
 Senior riders may want a bike with a full-throttle option, where you can have both the pedal assist and the full throttle. This means you can give your legs a rest and let the bike do all the work, by just pushing the thumb throttle down.
Click to see our Senior Picks Collection
The Tires
 The tires on your new electric bike will determine where you can ride it and how comfortable it is. Most electric bikes come with 26" tires that make the bike's handing agile. You will also see bikes with fat tires. These create a larger contact patch with the ground, giving you lots of grip. This is especially good for riding off-road. But the higher volume of these types of tires makes riding the streets more comfortable too. Fat tired bikes are quite heavy; this won't negatively affect how it rides (thanks to the motor), but if you have to lift it or carry it a lot, this may be an issue.
 Click to view our Fat Tire collection
Brakes
Electric bikes come with either V-brakes or with disc brakes. V-brakes are not as powerful, but they provide enough stopping power for most people riding around town. Disc brakes are either mechanical or hydraulic. Mechanical brakes give you lots of braking power and are easy to maintain. Hydraulic disc brakes give you the most stopping power and control, but they may be overkill for general riding around.
 Final thoughts
 As you can see, electric bikes are a fantastic investment for active seniors. They allow you to have a healthy life and easy access to friends and family. These are things that contribute to a great lifestyle, which you have been working towards all your life.